Well we have put the disappointment of China behind us. Another baby is in our future, when and how are details to be worked out.

So in moving on we have adopted a new kitty! His name is Grissom and he is a 6mth old fluffy orange cat.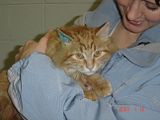 We adopted him from the Animal Health Technology program at the college my stepdad works at. They take in strays, or overflow from the Humane Society, and the students do all their bloodwork, deworm/deflea, vaccinate, tattoo and assist in the spay/neutering. Once the kitties are in tip top shape, they are then adopted out. I think its a wonderful program, the students are very loving to these poor kitties and nurse very sick ones back to health. When we went to look, there were two kitties available for adoption, three who weren't and six in quarentine. Our kitty had a stuffy toy in his pen, and I asked if we could have it to bring home with him so that he had something familiar. They hesitated and only agreed when I quickly followed up that I would replace it with more. That's when I noticed not all the kitties had a toy. While they are in very nice new pens, and there is a great play area for them, there is obviously no room in the budget for the little things like toys. So I decided to make some!
I used a pattern for the mouse and fish from the Crochet Pattern-A-Day 2007 Calendar, this pattern for the curly toys (
http://web.archive.org/web/20011230155705/pages.ivillage.com/debbilynnc/animalitems/id1.html
sorry I don't know how to link properly), and I just made up the other toys. They're all made with scrap ww and stuffed with catnip marinated cotton balls. My mom joined in and made a couple, and as she is adopting a cat from there as well, will be donating a bag of toys too. These toys work up super fast, and my current cat Willow thinks the couple we made for her are fantastic! Our plan is to continually make these toys for the AHT program so that every kitty they get has a new toy that can go home with them when they're adopted. Of course that's only if they accept these toys, but I can't see why they wouldn't. We pick up Grissom tomorrow, so I'll find out then!