Well I really fell behind on my projects this Christmas. I'm quite disappointed. I think the pressure made it not fun anymore. Now that Christmas is over, I'm hooking away again. And I think that the issues I ran into with my SIL's wrap and clutch really put me behind. But I did get a couple more things done. Here is an afghan I made for my BIL and his girlfriend. They just bought their first house in a ski resort town, so I thought this would keep them cozy when their lounging at home. Its wonderfully thick being two strands, and I used 8skeins of Bernat Super Value and a 10mm. I used a HDC seed stitch and it worked up much faster than I expected.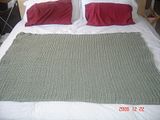 And here's what I made for my kitty Willow. A cute little catnip toy fish, and a bed that fits the back arm of our couch. She has happily been playing with the fish, however has chosen to sleep beside, not in, her bed. Oh well, if she doesn't take to it soon I'll donate it.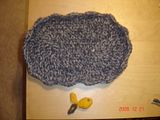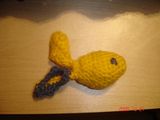 I have also mostly finished another Fat Bottom for my stepmom's birthday, but had some problems getting handles. So I just have to put those on and then I can finally get it to her (only a month late!).
And I'm working on another secret project that was also held up by supply issues but should be done that this week or next as well. Its something that was inspired by something else I saw, but I did it myself with no pattern or instruction, so I'm very proud of it. Pics will be posted soon of both of these projects.
Now that the Christmas rush is over, I have a nice list of projects to do. I have promised myself that I will finish three Christmas stockings and a tree skirt by the summer. I figure this way I know for sure that they'll be done by next Xmas. Gareth was so disappointed that I didn't make any this year.
And I got a few good crochet related gifts this year. "Not Your Mama's Crochet" book. There aren't a ton of patterns that appeal to me, but its great to have another reference book. And I also got the 2007 Crochet Pattern-A-Day calendar. Again most patterns aren't my taste, but there are a few I want to try. So I'm very happy with both of those.
And I'm about to buy a set of bamboo hooks off the internet! I'm nervous as I haven't really bought much online, but this site was recommended on C'ville, so I hope it'll be fine. I just have to look into their policy on shipping to Canada.
And for non-crochet related news, we're adopting a baby from China!! We're at the very early stages, but spilled the beans to our families this Christmas. Everyone is really happy and supportive. I have started a blog related specifically to this, but its on blogger, which I'm not sure I like yet.
http://thejourneytoourdaughter.blogspot.com/
Bye for now!