This isn't really exciting, but I'm proud of it because I needed something, and was able to make something up to fill that need, and I'm really happy with it!

I don't carry a regular diaper bag, just a big purse that doesn't have sections. It was a pain in the neck digging through it to find a diaper, wipes, mat, etc when it was all just loose. So I made this pouch that is just the right size to carry all diaper related items so that when I'm out and about with Ciaran and I need to change him, I just have to pull out this pouch and everything is at my fingertips!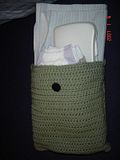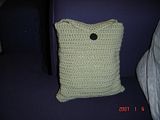 And as a small update, it doesn't look like G's new car is in yet. We were supposed to pick it up today, then we were told tomorrow, but as of 6pm tonight the car still hadn't arrived. Grrrrr!!! And now that G's old car isn't running anymore, we're down to one which is hard when we live on the farm. I hope we can pick it up on Saturday!!!