Today is June 4th, and things have been growing and changing a lot since last week, even with our nights of frost. Here's a little (okay, a big) peek into what's growing in my garden today.
The tomato corner! My tomatoes are mostly doing awesome. So far the cherry type tomatoes are doing much better than the slicing tomatoes. For cherries I have Patio, Sweet 100 and Champion. My slicers are Early Girl. I think the Early Girl's got a little frost bite a few weeks ago, they're still growing, but much slower then the others. Also my herbs are here. I think it's safe to say my basil is officially done. The chives are doing great though, and my cilantro is looking good. I will be getting more basil plants, I'm bound and determined not to have to buy the ridiculously overpriced little packages of fresh basil from the grocery store.
Cherry tomatoes, from L to R - patio, champion and sweet 100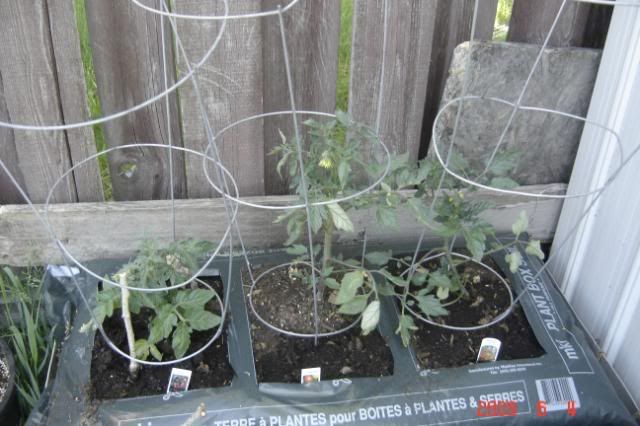 Early Girl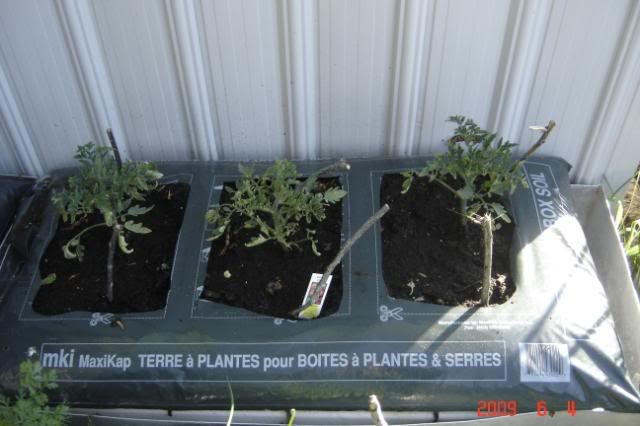 I've had to move some of the containers around on the other side to make it easier to cover them up (they've forecasted the possibility of SNOW this weekend, yargh!!!).
The zucchini's are in the back in the trough, then lettuce in the small blue container and spinach in the small black containers.
My zucchini's have some funny coloured leaves. Not all of the leaves, just some. Not sure if it got a little too cold for them? Any zucchini experts out there want to hazard a guess?
My carrots are doing great! I really must figure out how to thin them down.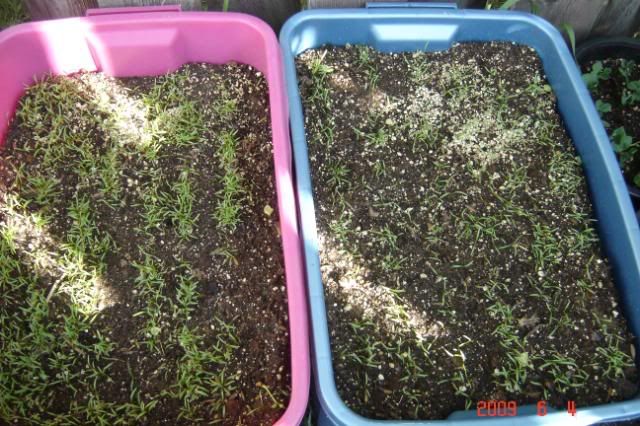 My first batch of peas are growing big and strong. I had to take the cages out to cover them, but will be putting it back as soon as it warms up at night a little.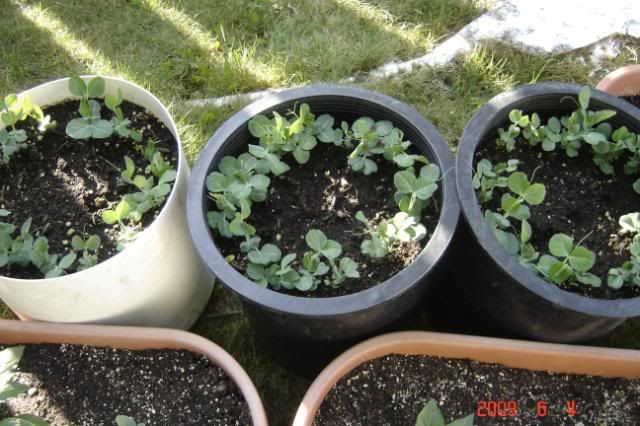 My second batch of peas are also doing awesome. Hopefully we'll have some awesome pea grazing sessions this summer!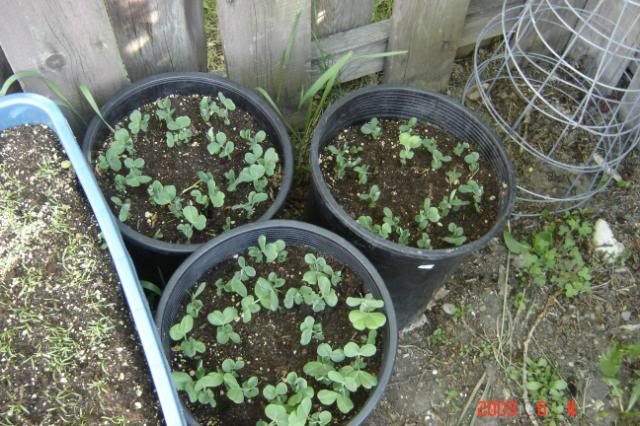 My beets are happy and growing. Again I'm sure I need to thin them, there are so many!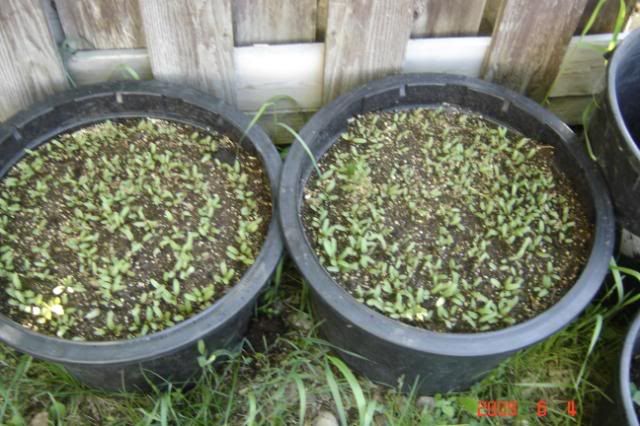 My strawberries have lots of flowers. Hopefully that means there will be lots of fruit!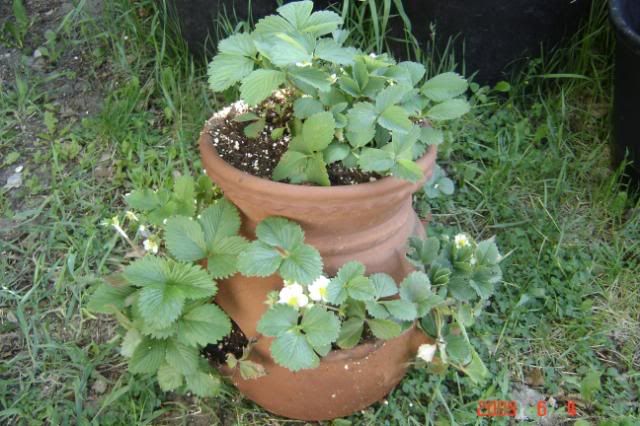 My potatoes are looking great! Even the ones in the bag. Of course I can't see what's under the dirt, and I've never actually been able to eat a potato I've grown myself, so fingers crossed! When they hit about 6" high I'll top up the mounds again and repeat until the buckets are full and/or it's harvest time.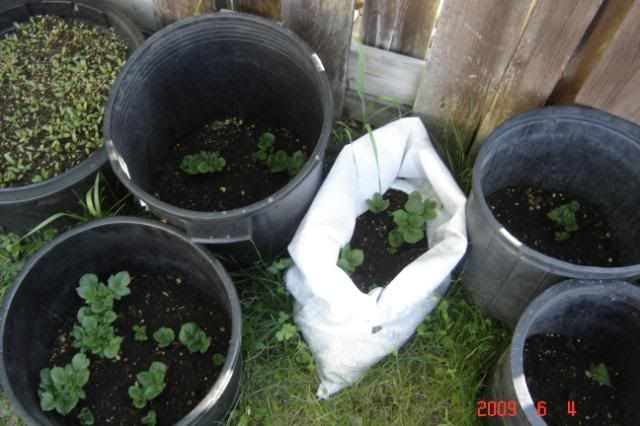 And I've added some pepper plants. Four sweet peppers and one salsa pepper. I only planted them a few days ago, but they're still looking healthy!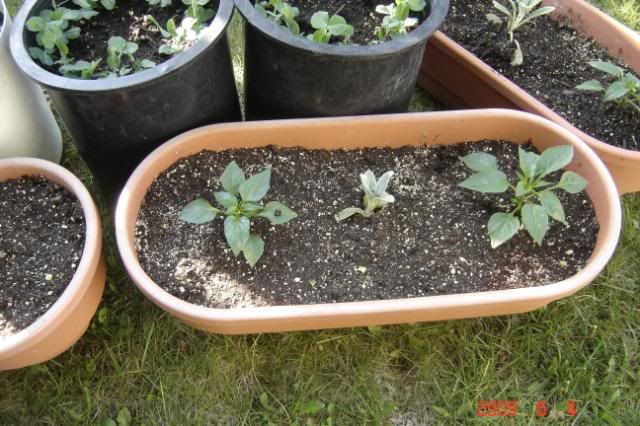 That's it for the veggies. My flowers containers are mostly all looking great. Sweetpeas are a few inches high, the cosmos containers are alive and thriving, sunflowers and marigolds are coming up quickly and my scarlett runner beans sprung up with a vengeance. However, I don't think I have a single snapdragon coming up yet. I seeded May 14th, so I'm thinking maybe they're a dud. If there's nothing by Monday I'll just plant some seedlings. I won't bore you with individual pictures, but you can see the growth in one week from a group photo.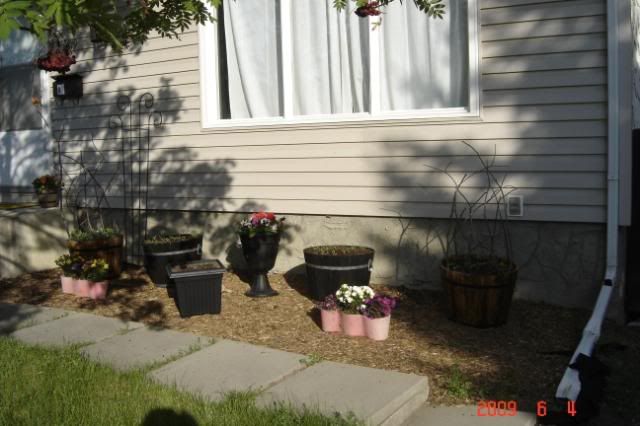 And here is the mystery perrenial in the side yard. Have no idea if it's a weed, but I'm watering it occastionally, so I hope it's nothing too terrible (my kids don't go in that area so I'm not too worried). Emily is there for size perception.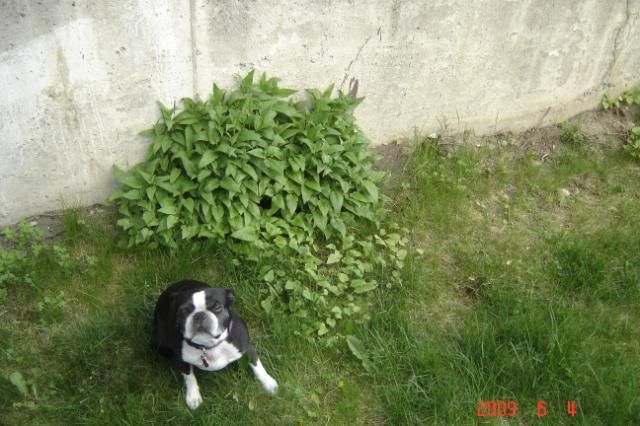 So hopefully we'll get through this chilly weekend without any losses, I'll replace a few things next week, and then it's low maitenance and just waiting for the bounty!